The United Nations Environment Programme (UNEP) has collaborated with Centre for Environment Education (CEE), Ahmedabad to conduct a study of ways to minimize the negative environmental impacts of the Indian Textile Industry and to help develop a 'Roadmap for Sustainable Textile Hub in India'.
This study is part of UNEP's ongoing collaboration with the Ministry of Textiles, Government of India to promote sustainable practices of cleaner/ circular production. The textiles sector is highly significant for sustainability as it is the second largest sector of employment after agriculture.
The study is being conducted in Surat, known as the textile city of Gujarat. About 30 million meters of raw fabric and 25 million metres of processed fabric are produced in Surat daily, including manmade, natural and technical fabrics. Surat has multiple industrial clusters like Pandesara, Palsana, GIDC Sachin, Udhana, Kadodara and in the municipal area of the city, which play host to different elements of the textile value chain and other industries.
The roadmap for enhancing sustainability is proposed to be developed (and implemented) through a collaborative effort of the stakeholders and relevant organizations.
The study methodology includes a baseline survey, hotspot assessment, environment footprint assessment of Surat textile cluster, and knowledge sharing sessions to document best practices in the sector.
Based on the study, a detailed roadmap is expected to be prepared for a model Sustainable Textile Hub in Surat, which may be replicated in other textile zones of the country. The outcome of the project is also expected to draw policy recommendations for sustainable transition of the textile sector in India.
Meeting with Southern Gujarat Chamber Of Commerce And Industry (SGCCI)
A meeting was organized in April 2021 to discuss the current state of textile industry, bottlenecks, and to introduce some of the best available practices in the textile industry. At the meeting, the SGCCI has indicated its interest and offered its cooperation for the study.
From L to R: Mr. Tushar Jani - Senior Director EMG-CEE, Mr. Manish Kapadiya – Hon. Treasurer SGCCI, Mr. Dinesh Navadia - President SGCCI, Mr. Ashish Gujarati - Vice President SGCCi, Mr. Vatsal Naik - Chairman Environment & Climate Committee, SGCCI.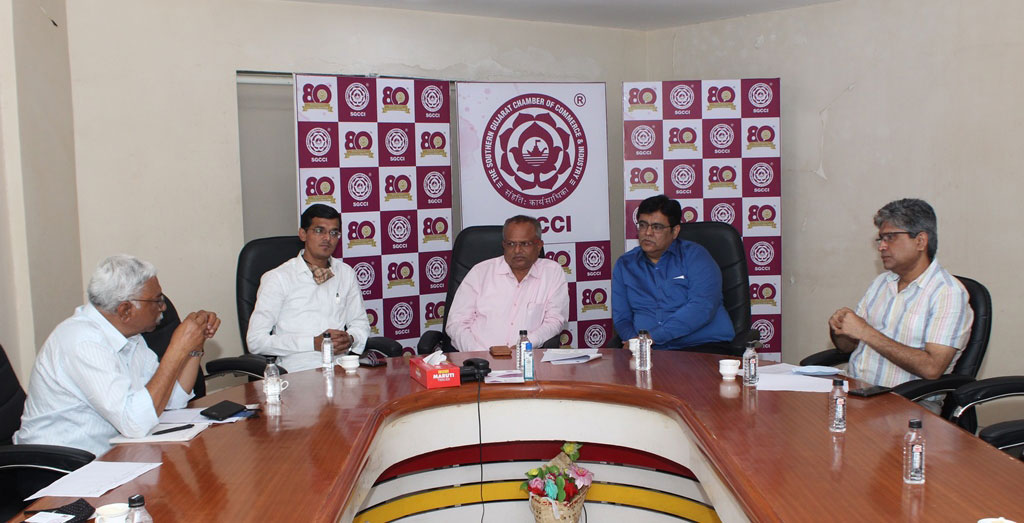 Project Launch
The project was digitally launched on the 15th of April, 2021 Mr. Kartikeya Sarabhai, Director-CEE, Mr. Atul Bagai, Head-UNEP India, and Mr U P Singh (IAS), Secretary- Ministry of Textiles, along with eminent dignitaries from the textile industry of Surat were present for the launch.
This was followed by a panel discussion where stakeholders presented their point of view, needs and aspirations.