Develop programmes for income generation and better utilization of resources, through field programmes designed specifically for rural communities.
Conservation efforts are rarely successful in the absence of a general understanding of the need to integrate environmental consideration into development strategy. It becomes necessary therefore to practically demonstrate the superiority of ecologically sound projects and technologies which can promote such understanding and environmental sensitivity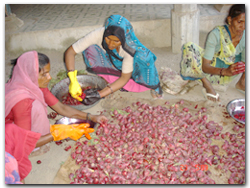 The vision of the Rural Programmes Group of the Centre is to contribute to the knowledge and practice of sustainable development of ecologically sensitive, stressed, fragile areas through promotion of equitable and sustainable livelihood strategies. CEE develops, adapts and encourages a variety of natural resource management approaches through its programmes as well as facilitates such initiatives by other groups.
Through its field programmes designed especially for communities living in rural areas, CEE has developed programmes for income generation and better utilization of resources. These include activities aimed at creating awareness among the communities about the ecological significance of the areas around which they live.
Projects to demonstrate environmentally-sound, practical alternatives to support sustainable resource management in ecologically fragile areas, including areas around National Parks and Sanctuaries are also undertaken.