Cyclone Fani that struck the coast of Odisha on 3rd May 2019 has left behind a trail of damage disrupting the lives, livelihoods and infrastructure of around 15.09 million people from 14 districts and 16,659 villages. Preliminary assessment indicate that around 5 lakh houses have been destroyed; most plantations like coconut, cashewnut, banana and natural vegetation have been damaged. Agriculture land inundated with saline water and standing crops destroyed. Livestock loss, including fodder un-availability is a major concern. Fishers too have incurred considerable losses in terms of damage to shelter, boats and livelihood assets. Sand dunes bereft of vegetation have flattened and beach areas eroded.
CEE's response to cyclone Fani impact
CEE in partnership with the East Coast Forum (ECF) has undertaken the Rebuilding Resilience rehabilitation initiative to work with the coastal communities and institutions in Odisha. The aim is to build resilience through knowledge and need-based interventions which are of immediate, intermediate and long-term duration using improved resilience and sustainability approaches. These approaches are being developed based on our prior experience of rehabilitation work on the east coast after the tsunami in 2004, and other disasters in the country including earthquakes and floods.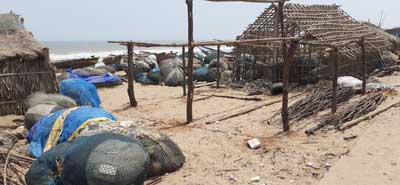 We invite and appeal to individuals, trusts, corporates, funding agencies to partner with us and donate generously to help Rebuild Resilience.
Contributions are tax-deductible. Donations to CEE qualify for exemption under Section 80-G of the Indian Income Tax Act, 1961.
CEE is registered with the Ministry of Home Affairs under the Foreign Contribution Regulation Act (FCRA), 1976.
We seek financial support to:
sustain a continuous ground truthed need assessment system involving community youth leaders and participatory processes for identifying appropriate interventions
initiate immediate and long-term resilience building interventions that cater to vulnerable communities and regions along the coast of Odisha
create a demand for co-managed strategies for relief, reconstruction, rehabilitation and preparedness
---
Immediate Response
We are facilitating distribution of immediate relief materials like tarpaulin, ropes, solar lanterns, candles, food supplements and rapid need assessment.
Longer-term Rehabilitation
Through an initial assessment we have broadly identified immediate, intermediate and long-term interventions for food & nutrition, sanitation & hygiene, shelter, power supply, livelihood restoration, alternate livelihoods, veterinary support services, eco-restoration, school education, etc.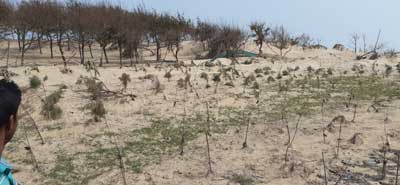 ---
CEE-ECF Rehabilitation Locations
While Fani cyclone has impacted 14 districts; CEE-ECF is focusing on the most affected Puri district - particularly to work with communities along 40 cyclone affected coastal villages in Puri Sadar Block, Gop Block, Kakatpur Block, Astarang Block in Puri district of Odisha. We look forward to long term rehabilitation and resilience building in these areas.
---
Approach
Our approach is to nurture a community owned and co-managed operations including.
Coordination with the state, district and local administrations.
Guidance and support to appropriate local community groups, NGOs entities for capacity enhancement and implementation of relevant rehabilitation strategies.
Direct implementation of community supported rebuilding infrastructure and restoration interventions where needed and appropriate.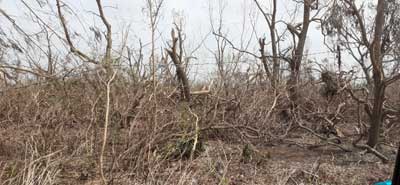 ---
About CEE and the East Coast Forum
Centre for Environment Education was established in 1984 as a Centre for Excellence of the Ministry of Environment, Forests and Climate Change. CEE has been engaged in promoting public awareness of environmental and sustainability issues. CEE has collaborated with several governments, national and international agencies such as United Nations Development Programme (UNDP), United Nations Environment Programme (UNEP), OXFAM International, Care India, Plan International, JSW to initiate Disaster Rehabilitation Programmes in the past, such as the Gujarat Earthquake (Rebuilding Hope) in 2001; Tamil Nadu-Puducherry Tsunami (Rebuilding Lives) in 2004; Kashmir Earthquake (Rebuilding Trust) in 2005; Uttarakhand Flood (Rebuilding Faith) in 2013.
The East Coast Forum is a consortium of 15 civil society organizations working towards strengthening resilience and climate adaptation through participatory process among coastal communities along the Indian east coast. It is a grassroots network addressing challenges of climate change, disaster and marine litter management. It is led by the Centre for Environment Education (CEE) and supported by the Academy of Gandhian Studies (AGS). The consortium was formed following experiences and motivations from recent campaign on Climate Literacy and Marine Litter Management in 250 coastal communities in West Bengal, Odisha, Andhra Pradesh, Tamil Nadu and Puducherry.
The Sabuj Sangha, Lokshakti Vikash Kendra, Indian Institute of Youth and Development are ECF partners currently working in the coastal areas of Odisha along with 15 community youth leaders.
---
CEE's involvement with EE in Orissa had a modest beginning during the year 2000 when an agreement was made with the Chilika Development Authority to develop an interpretation facility and an education programme in schools under the MHRD supported programme Environmental Orientation to School Education (EOSE) and National Environmental Education Programme in Schools (NEEPS). Subsequently, a programme on Hospital Waste Management started in the year 2001. In addition, the Small Grants Programme was also initiated.