Rural & Urban Landscapes Free of Dry & Plastic Waste
Project Background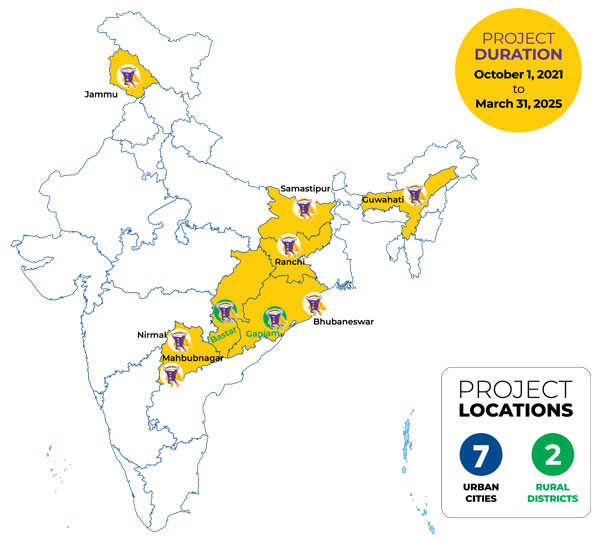 Centre for Environment Education (CEE) India in partnership and support from HDFC Bank envisages implementing a project on 'Rural & Urban Landscapes Free of Dry & Plastic Waste' in seven urban cities and two rural districts of India. This initiative is designed to partner in Urban (cities and towns) and Rural (village-panchayat-block-district) areas to Synergize the efforts with the Urban Local Bodies, State Pollution Control Board, Safai Mitras, the Swachh Bharat Mission (SBM) and Swachh Sarvekshan (an initiative of Ministry of Housing and Urban Affairs (MOHUA) & other stakeholders, to minimize negative impacts and risks to environment and to the citizen's health in India.
The project aims are to address Nature, Climate, and Pollution by enhancing sustainable Dry Waste Management practices, through an interdisciplinary (different stakeholders), integrated (different processes), multifaceted (business approach), and holistic model (segregation, collection, optimizing transportation, processing, and sustainable recovery and recycling) and safe disposal with a clear emphasis on the different elements of circular economy approach - reduce, reuse, refuse, recycle, refurbishing and repair, recover and recycle.
The 'Rural and Urban Landscape free of Dry & Plastic Waste' a unique initiative of HDFC BANK & CEE project, is an idea in sync with many path breaking initiatives of Government of India e.g., Waste to Wealth, Plastics Extended Producer Responsibility (EPR), Single-Use Plastic Elimination Notification, and many more New Rules and largely to see plastics as a resource and not a waste.
The project's concept is to encourage all stakeholders in the waste value chain to promote processes and approaches for improving material usage efficiency across all forms of plastics waste segregation and to create a sustainable and safe environment. The project will introduce innovative management techniques such as establishing drop-off stations (Plastic Lao-Thaila/Mask Pao) in markets and cities, promoting reverse logistics and efficient vending methods, and pushing the development of deposit return systems.
During implementation, the project along with partners will bring forth consciousness in using plastics - the environmental, social, and economic benefits, and capture the extent of the accumulation of plastics and its worrying impacts on climate, environment, and health throughout its lifecycle. The project will also emphasize focus discussions and implementation strategies on mainstreaming inclusion of informal sector performers (Safai Mitras; small aggregators and informal recyclers); and amicably figuring out a sustainable path ahead with the plastics industry
Project Vision
A world free of plastic pollution. To make this a reality, we need to spark a fundamental paradigm shift and reimagine the way we produce, consume and dispose plastics, and radically change the way we do our work and live our lives.
Synergize the ideas from other countries, and from ongoing successful approaches/models in India on plastic waste management.
Bringing ownership through community representatives to policy formulation, and all stakeholders along the supply chain to recognize the impact plastic waste has on health and the environment.
To adopt and implement a systemic approach to plastic pollution to move the world towards zero plastic pollution.
Mainstreaming Informal sector, integrating a focus on waste pickers (Safai Mitras), small aggregators, and informal recyclers inclusivity
Project Key Components
Create Baselines in the City: The project will develop a baseline in the city to understand the dry and plastic management operations, management, stakeholders' participation, and disposal systems in the city or in rural areas.
Encourage, and Connect with Decentralized Waste Collection Centers (DWCCs): The project will connect to the Decentralized Waste Collection Centers (DWCCs) in the allocated wards in the city on pilot basis. The project is focused on systemic approaches on how to mainstream Small Aggregators, Waste Pickers, Informal Recyclers, women's SHGs formation to link into the Material Recovery Facility (MRF), and Material Recycling Centre (MRC) management, and operations at the city level.
Establish SWACHH Centers including MRFs & MRCs: Integrated Material Recovery Facilities (MRF) and Material Recycling Centres (MRC) will be established under the project to showcase a sustainable Circular Economy Approach. This enables traceability and transparency system for Extended Producer Responsibility (EPRs) for the producers, importers, and owners.
Inclusivity of Informal Sector: – Ensure and empower Safai Mitras (SM), Recyclers and Aggregators for inclusive growth and social security measures adopted for the exploited and stressed in the pilot areas.
Creates Technology Applications: Fit in stakeholders along the waste value chain, and combine material flow efficiencies through digital app-based models for better traceability at all levels.
Project Stakeholders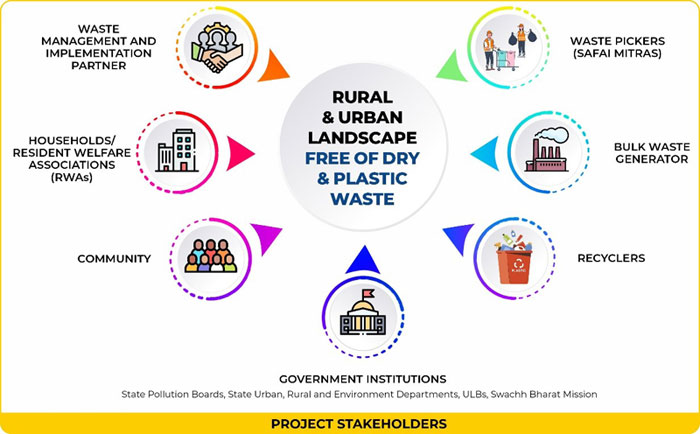 Project Expected Outcomes (within the project duration):
Establish MRFs and MRCs to strengthen the waste ecosystem approach in Rural & Urban areas
Better managed 20,000 tons of dry and plastic waste across project locations in 3.5 years of the project.
Improve socio-economic conditions of 3000+ Safai Mitras, building an economically, ecologically and financially sustainable circularity approach/model.
Checked nearly 50,000 MTs of CO2 emissions during project duration
Strengthen knowledge & capacities of waste management agencies, women SHGs and cooperatives, recyclers, aggregators, related institutions, and other stakeholders.
Sensitize communities to adopt eco-friendly practices in the plastic ecosystem, taking ownership, responsibility to address Circular Economy systems.
Mainstreaming Sustainable Development Goals
This project contributes in mitigating climate change adversaries towards 14 out of 17 Sustainable Development Goals (SDGs).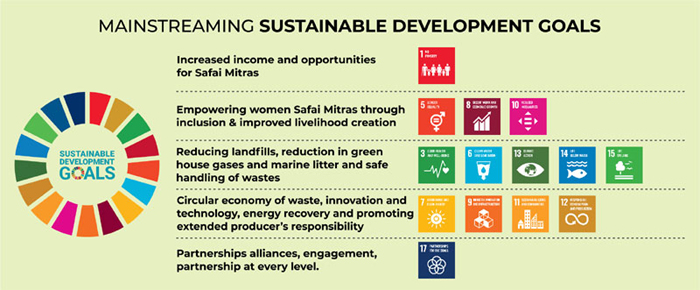 Contacts:
Delhi Office
Prabhjot Sodhi - [email protected]
Rohit Maskara - [email protected]
Funding Organisation