India Australia E-learning Exchange Course
Sustainability and Climate Resilient Farming
OVERVIEW
This virtual exchange course has been developed by the Centre for Environment Education (CEE) and will be conducted in collaboration with Western Sydney University (WSU), Australia and University of Lucknow, India. This exchange course will provide a unique opportunity for students to engage in an online global learning experience. This program will take a deeper look at farming practices and conservation systems, through a sustainability lens, between Australia and India contexts. During the virtual exchange students will undertake a comparative scientific research project, network with international peers and experts, and engage in cultural immersion from home to build a life-long learning and connections to the Indo-Pacific.
Students will engage virtually (online) over an 8-week period through live and self-led learning activities. Learning activities will be a combination of live Zoom discussions, cultural activities, and/or independent peer-peer research project work. Students are expected to participate in each session to successfully complete and receive their e-certificate.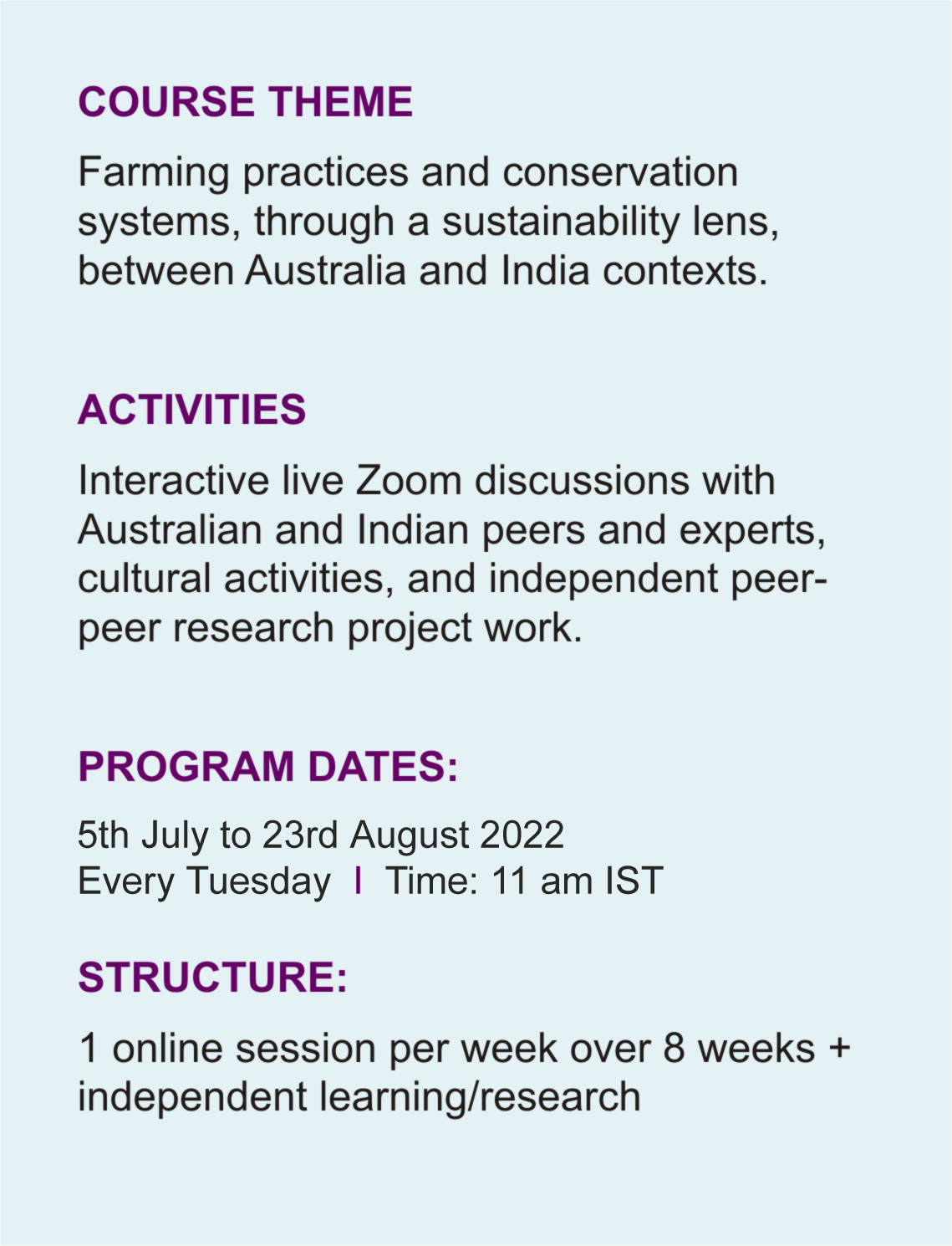 WHY APPLY?
+ Receive international certificate for participating in the course.
+ Receive hands-on experience and opportunity to participate in the virtual exchange program.
+ Learn and gain valuable discipline and career-relevant skills as a young person working in a global context.
+ Meet new people and make friends, join or create networks of like-minded youth.
WHO CAN APPLY?
Students studying or having completed Bachelor/Masters degree in any Science discipline related to animals/agriculture/soil/environmental sciences. Must be an Indian Citizen.
APPLICATION
Limited seats available, fee waiver available for early-bird registration.
Registration has been closed. For more details, Please write to us at [email protected]
Programme fees: 5000 INR (4,500 Early bird fee valid till limited period only)
PROGRAM ITINERARY
Program dates are Tuesday, 5th July to Tuesday, 23th August 2022. Please note that week-week activities are subject to change, and days are still to be confirmed. It is expected students will participate in all scheduled activities as part of the virtual exchange. Students will also be expected to participate in a pre-course workshop that will detail expectations and learning activities. This will be scheduled in last week of June for all registered participants.
DATE (WEEK OF)

ACTIVITY

MODE

Week 1

Formal Welcome

Live (Zoom meeting)

Introduction to the virtual exchange

Sharing of E-learning material

Offline

Week 2

Cultural Activity

Live (Zoom meeting)

About Research Projects: Assigning Student Research Projects

Planning your project

Offline

Week 3

Expert session and Discussions

Live (Zoom meeting)

Cultural Activity

Week 4

Student Projects – Independent work

Offline

Exploring e-learning resources

Week 5

Experts and Discussions

Live (Zoom meeting)

Cultural Activity

Week 6

Student Projects – Independent work

Offline

Exploring e-learning resources

Week 7

Student Projects Submission and Presentation

Live (Zoom meeting)

Week 8

Feedback and Concluding ceremony

Online

Dissemination of e-certificates

Offline