Register here Programme schedule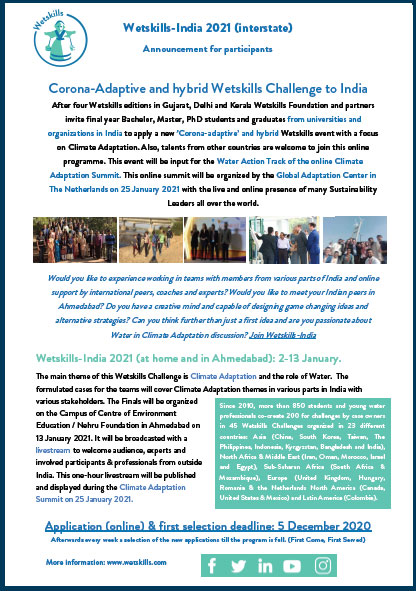 Wetskills uses a new way of authentic learning and international networking for students and young professionals with a passion for water. The Challenges take place worldwide, usually during international water related events. In multidisciplinary, international teams, the participants work on real life cases from companies and (governmental) organizations. Their challenge: to think out-of-the-box and develop realistic concepts.
After the successful completion of the two editions of Wetskills in 2015 and in 2017 yet another edition of Wetskills India-2021 is being organized jointly by Centre for Environment Education (CEE) and Wetskills Foundation at CEE, Ahmedabad.
The Wetskills Programme 2021 is planned to be organized in India by Wetskills Foundation and the CEE from 2 – 13 January, 2021. The two week programme is envisaged in a dual mode – 5 days online and 5 days in person at Ahmedabad. It is open to the students and young professional's (18-30 years of age) from universities, colleges and organizations across India and abroad. This is an innovative networking approach for students and young professionals who are keen to know more about water and wastewater related challenges.
The programme focuses on finding creative solutions for Pollution and river systems: Industrial pollution and solutions, Pollution and river systems: Domestic water pollution, Floods and Role of women in water management, Community involvement in water governance and Drought and Agriculture by a mixed team of students and young professionals.
Strategy of Programme:
Interstate groups of 5 participants per each group will be formed. Each group will need to pick up one sub-thematic area.
The students work on the sub-theme, conduct field work in their own city/state near where they live, developing a shared understanding of a common theme. They apply this understanding to the situation in their state. A common pitch is developed by each of the groups taking into account the differences among the states within the sub-theme.
Experts will be identified to mentor and guide the students during the 2 weeks.
The present strategy of a dual mode of offering the course can be reviewed in the context of COVID-19 pandemic at a later stage.
Fees of the programme could be waived or concession will be given by the organizers based on the case to case.
Fees for the Programme:
The participation fee for the two week programme for participants from India is INR 2000 per person. This participation fee includes accommodation in Ahmedabad. Participants already in Ahmedabad have a participation fee of INR 1000 per person. (Note: International participants can join online for free.)
The programme includes team building activities, some lunches & dinners, field trips, workshop, supervision, training and working venues. Participants are responsible for their own travel expenses (plane tickets, local travel, etc.), meals during working days and other personal costs. During past editions participants often successfully arranged financial compensation for their Wetskills participation from their university or employer. We therefore strongly encourage applicants to inquire about funding opportunities to compensate the costs.
It would be a great pleasure if you could nominate students/young professionals from your organizations before 5th December 2020 for Wetskills India 2021 Corona-Adaptive and hybrid Wetskills Challenge to India programme from 2nd - 13 January 2021.